The 2023 Subaru Love Promise Customer and Community Commitment Award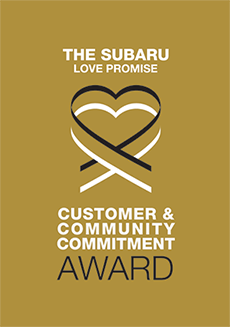 We've been nationally recognized for our dedication to our customers, our community, and the Subaru Love Promise.
We're honored to receive the 2023 Subaru Love Promise Customer and Community Commitment Award. This award nationally recognizes elite Subaru retailers who provide an exceptional customer experience at every interaction with Subaru. These retailers have also demonstrated an outstanding commitment to supporting passions and causes in their local communities in important areas such as the environment, community, health, education, and pets.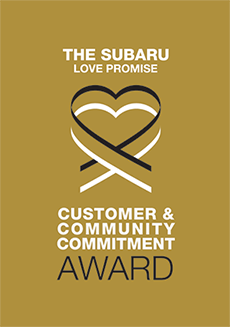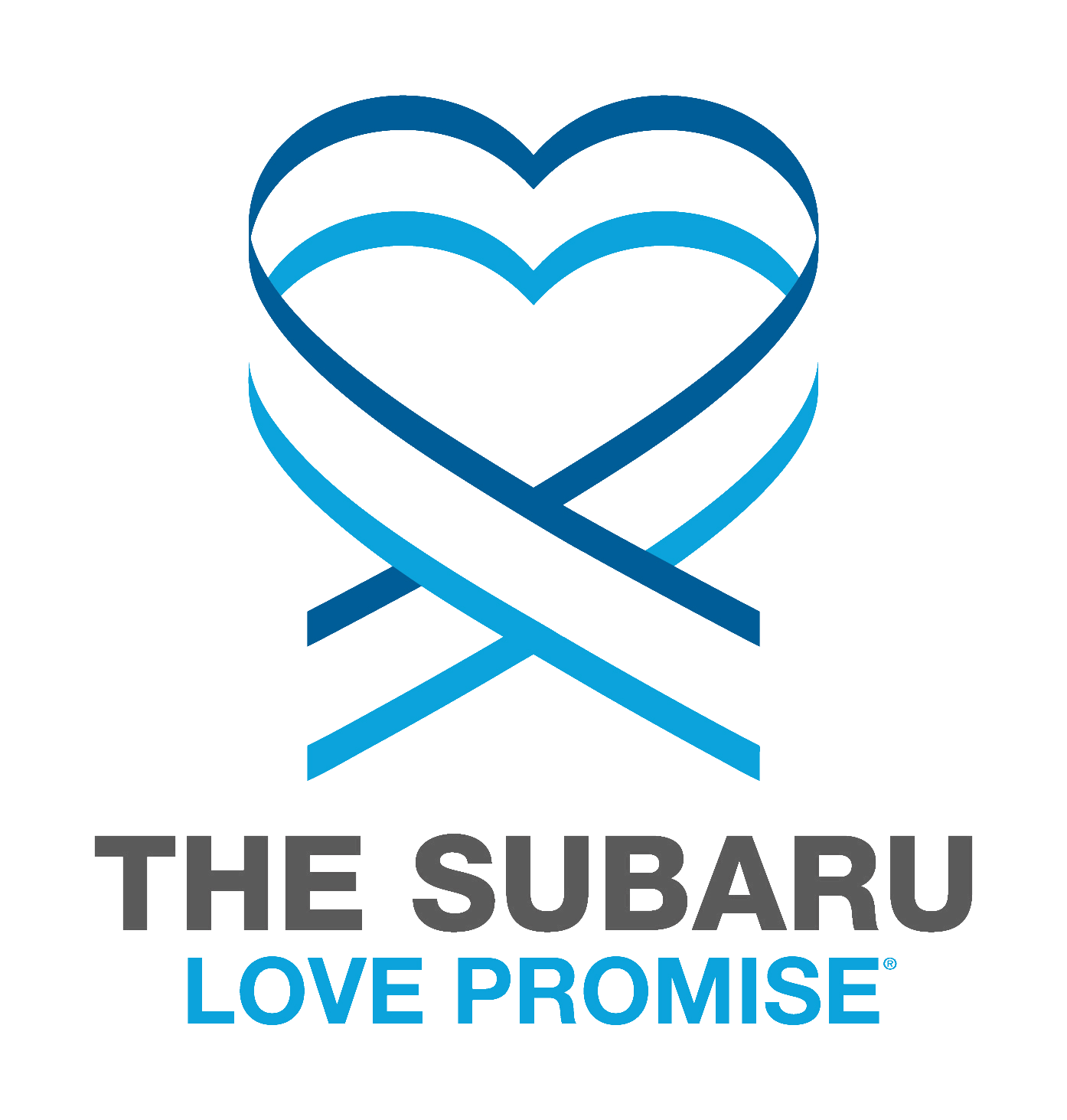 What is the Subaru Love Promise?
Subaru and our retailers believe in making the world a better place and the Subaru Love Promise is our vision of respecting all people. This is our commitment to show love and respect to our customers and to work to make a positive impact in the world.
How is Valenti Subaru dedicated locally to the Love Promise?
Our Love Promise can be seen in various partnerships with local charities and non-profits. We're grateful for the opportunity, not only to be a part of our community, but to serve it as well.
Westerly Rotary Club, Westerly Chamber of Commerce, Ocean Community YMCA
Rhode Island Blood Center
Love Promise Stories from Valenti Subaru
Subaru and Valenti Subaru believe in making a positive impact on the communities in which we live and work. We uphold that belief through our Love Promise Community Commitment. Every month, we select inspiring stories from customers and partners from around our area who strive to support our collective commitment and feature them here
Bruce Morrow and the Valenti Subaru Family continue to help feed the Washington County Community. - Paul S
We, at the Rhode Island Center Assisting those in Need (RICAN), continue to be humbled and grateful for the tremendous assistance that we have received from Bruce Morrow and the Valenti Subaru family over the years, and more particularly this year (2023) regarding the recent support that we received in sponsoring the "Annual Ocean House Marina - Freezin' for a Reason Polar Plunge" event. Thank you Valenti Subaru for caring about the non-profit organizations in Southern RI and for helping to address the food insecurity in Washington County, through RICAN. You have helped contribute to supplying over 440,000 pounds of food to over 20,000 people in Washington County last year alone. Valenti Subaru has helped RICAN to meet the 40% increase in need that we have experienced over the last six months! We never underestimate the difference that our support partners, like Valenti Subaru, make to assist us to meet the ever-increasing needs of our local community. We love the friendly atmosphere at Valenti Subaru, and their unquestionable support to community missions. Thanks again, Bruce and the Valenti Family. Paul Schauer. Executive Director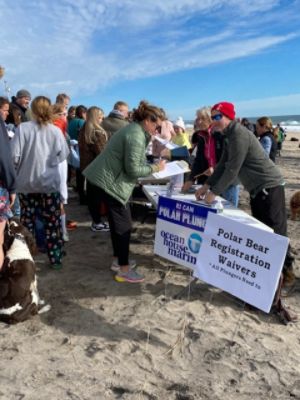 ---
Help Keep Music Alive - Paul L
Dear Bruce, The R.E. Fitch High School Falcon Music Boosters would like to thank you and Valenti Subaru of Westerly, RI. for your generous sponsorship of our 7th annual benefit concert featuring the national touring group Beatlemania. Because of local community orientated businesses like Valenti Subaru, the Falcon Boosters were able to raise sufficient funds for our music students in continuing their music education. This year's proceeds were used for a student competition trip to Hawaii. The mission of the Falcon Music Boosters is to support the efforts of students in the Robert E. Fitch Senior High School music programs. These programs include all the bands, choirs and orchestra. Our support is intended to help students fully develop their musical interests and capabilities while providing an atmosphere of mutual respect, camaraderie, and fun. The Falcon Music Boosters, Inc. supports the Fitch music program financially, as well as provides volunteer service and sponsorship through participation in numerous activities directly with the music ensembles. Sincerely, Paul Lococo Event Manager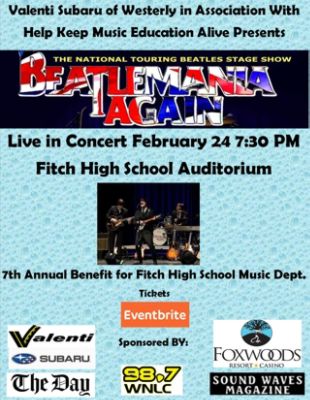 ---
The committee for the great salt pond - Betsy P
Dear Bruce and the Subaru team, thank you again for your generous donation to the block island swim. We appreciate Valenti Subaru for our annual fundraiser. We are dedicated to preserving the water quality of our pond. Thank you Betsy Pyne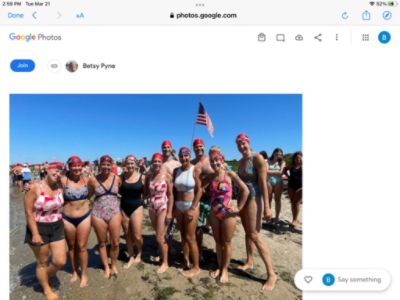 ---
Valenti Subaru helps its neighbors on Random Acts of Kindness Day - Susan S
The amount of help that the Pawcatuck Neighborhood Center (PNC) has received from Bruce Morrow of Valenti Subaru has been a true testimony of Subaru's Love Promise®. Bruce, who is also a PNC board member, held a snack drive at Valenti Subaru to support the PNC's Weekender Backpack program! This program provides breakfast meals, fresh fruit and veggies, milk from a local dairy, protein, bread and snacks every Friday to nearly 300 school-age children in need residing in Mystic, Stonington, North Stonington and Westerly. Bruce not only dropped off 131 lbs of snacks, but also over 600 pairs of socks on Random Acts of Kindness Day! We are so thankful for the continued support from Valenti Subaru which helps us fulfill our mission of "neighbors helping neighbors!"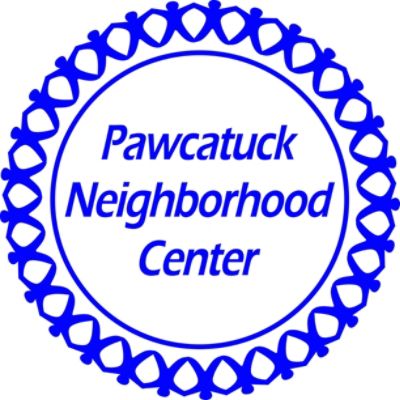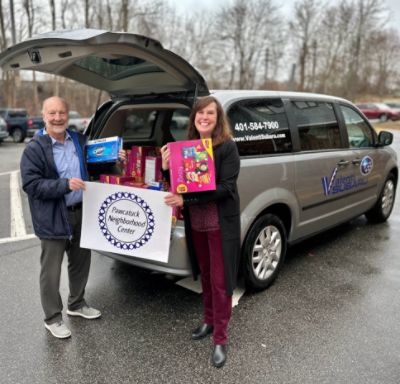 ---
Bella's New Ride - timothy K
Mark and Nancy's journey started with a prayer and then a letter to Thomas Doll. You see Mark Perreault was diagnosed with MS in 2017 and has since regressed to needing a wheelchair 75% of the time. Although his 2010 Legacy has been a reliable vehicle it simply didn't have the room to accommodate his extra-large wheelchair as well as his therapy pig "Bella". Mark's girlfriend Nancy Laflamme serves as his caretaker and driver because the MS is also claiming his sight. It got to the point that Mark was only able to go out for doctors appointments due to how difficult it was for her to get the wheelchair in and out of the car. He and Nancy reached out to Subaru America because of their love of the brand and with the hopes that they might be able to help due to Mark's very limited income on disability. Since his income is only $841 monthly, he offered his Legacy for trade and was hoping that he would qualify for the $5,000 grant his town offers to low-income individuals in need. At the time they never imagined a response. Much to their surprise they got a call from Jen in Public Relations stating Subaru read the letter and they would find the perfect dealership for them to work with. True to her word she found Valenti Subaru. On May 2, 2022 Joe Altavilla forwarded Valenti Subaru's general manager Bruce Morrow an email containing the letter Nancy and Mark sent to Subaru America. As soon as Bruce read their story he knew we were the right dealership to help them. He reached out to Mark and Nancy to assure them we would find the right vehicle in their price range. He also asked exactly what they needed. The answer was simple, a large trunk Nancy could get easily get Mark's wheelchair in and out of, room for Bella, and a higher clearance due to the conditions of the road to their house. They knew about the shortage of vehicles in their price range and that it may take some time. They put their faith in Bruce and the search began. Within a few months Nancy received a call from Adam Kaplan letting her know we found them a vehicle. Adam has been a salesman with us for 17 years and he was happy to help them throughout the process. The next step was for Nancy and Mark to come to look at the vehicle, take pictures, and get the information needed for the grant their town offers. They genuinely believed they would get the grant and spent 4 months giving information, doing interviews, and going back and forth with the board. During this time Nancy consistently updated Adam about what was going on. Unfortunately after months of back and forth with the board for the grant they denied them. At that point both Mark and Nancy thought that any hope of getting a vehicle that met their needs and budget was lost. Despite their disappointment they came in to apologize and thank us for everything we've tried to do. Bruce let them know that Subaru Loves to Help and Valenti Subaru was committed to helping them get the vehicle they so desperately needed with or without the grant. Two weeks later Adam called them with the best news. Bruce Morrow, with the help and support of Rob Valenti, found a 2010 Forester with only 24,000 miles on it that we'd like to give them. Nancy expressed concerns about taxes, registration etc. now that they wouldn't have the money from the grant. Adam reassured her that everything would be taken care of and they simply needed to come in to look at the vehicle then schedule a time to pick it up. After 6 months of waiting, hoping, and praying they were finally getting the vehicle they needed. Both Mark and Nancy were almost in disbelief. Everything came full circle on the day we presented them with the car. Our district manager Joe Altavilla who originally reached out to Bruce happened to be here for a meeting. Nancy and Mark were thrilled to meet him. They also got to meet Bruce's black lab Dakota who is our official greeter. Dakota made such a good impression when we asked for pictures of Bella to add to our posts one of the first things Nancy asked was "How's Dakota?" This Subaru will help make life easier for both Mark and his girlfriend Nancy. It also offers them the opportunity to have a better quality of life and do more together. We are thrilled we were able to do this. In Nancy's own words "This whole time everyone at Subaru made me feel like family, not a low-income person looking for a handout. They treated us like the next couple buying a brand-new vehicle with cash. All I can say is I am eternally grateful to all involved. And it goes to show what prayer and good people can do. All of you will hold a special place in my heart."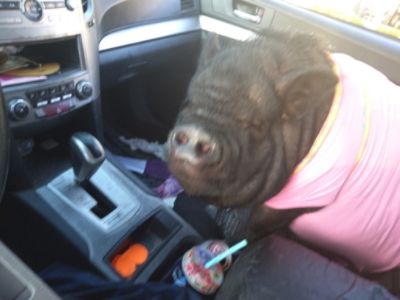 ---
Valenti Subaru Helping Animals in Need - Deb T
Bruce has and continues to have a tremendous positive impact in our local community. His support of local non-profits, as well as individual members, is to be commended. Not only is he always ready to help anyone in need; he's always smiling! Our work at Stand Up For Animals (SUFA) includes supporting the needs of the animals at the state-of-the-art animal shelter that we built for the town, and providing financial assistance to families with animals in our local community. We provide humane education classes to local school-aged children, support spay, neuter release colonies (TNR), assist families with pet emergencies, and partner with the town to provide a weekly low-cost clinic. We strive to ensure that every animal is treated with compassion and to assist those who care for them. We are grateful for Bruce and his ongoing support of our all of our events, especially our Bowlathon and Golf Tournament. We have had the opportunity to work with Valenti Subaru since 2017 and the relationship and support only continues to grow. Once again, this collaboration included an October promotion that donates funds for every dog or cat adoption occurring at the shelter. We are proud to have Valenti Subaru in our corner helping us achieve our mission and we are humbled and grateful that Valenti Subaru has selected SUFA as part of their Subaru Loves Pets event. To Bruce Morrow and to Valenti Subaru and its employees – thank you for caring about the non-profit organizations, animals and humans in our community!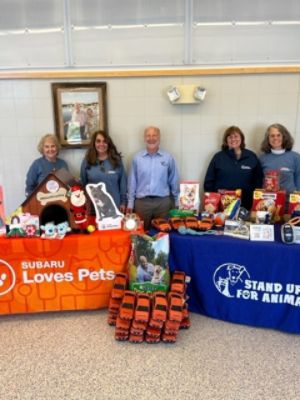 ---
Subaru loves learning - Beth K
In an uncertain economy, one thing is certain- Valenti Subaru never stops giving. They are very big supporters of our St Michael School annual 5K which supports our children, their learning and most importantly our future. Valenti Subaru is reliable, generous and simply put- just a kind, honest business. When you purchase from Valenti Subaru, you know you are supporting a business that makes every effort so support the community. St Michael School is so grateful to know Valenti Subaru. Thank you for showing us it is in giving that we receive.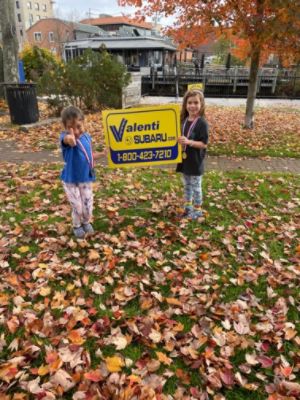 ---
Valenti Subaru and Pawcatuck Lion Club - Deane B
The Pawcatuck Lions have been serving our community since 1953. During that time we have relied on businesses to assist us with our fundraising, Valenti Subaru has always been generous in their support; sponsoring a tee for our annual golf tournament. The Lions know we can always count on Valenti Subaru to be there when we ask for help. Their generous and willing support is much appreciated.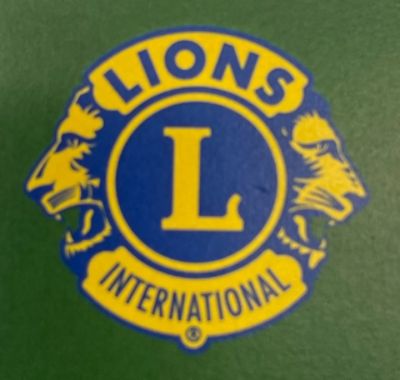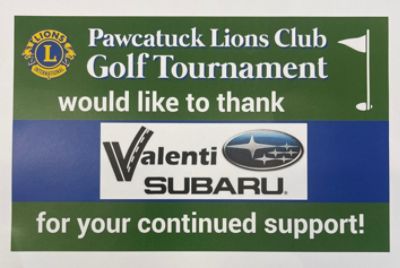 ---
Valenti Subaru and Little Rhody Rescue - Paula T
On behalf of Little Rhody Rescue, I want to thank Bruce Morrow and the Valenti Subaru Family for becoming a sponsor in our Funny4Funds event. I love the friendly atmosphere at Valenti Subaru, and when I asked about sponsorship, Bruce did not hesitate. Our rescues come from "high kill" animal shelters in Texas, Louisiana and Tennessee. These sweet dogs (and some cats!) are spayed or neutered, microchipped and brought up to date on vaccines. To date, Little Rhody Rescue and its affiliates have adopted over 11,500 shelter dogs to loving families. Thanks for making a difference in the lives of rescue animals!
---
VALENTI SUBARU FEEDS ITS NEIGHBORS WITH THE HELP OF BRUCE MORROW - Susan S
The Pawcatuck Neighborhood Center (PNC) is humbled by the amount of help that it has received this year from Bruce Morrow of Valenti Subaru. As a PNC Board Member, Bruce is ready to help at a moment's notice. When the PNC pantry was low in breakfast items, he held a food drive at Valenti and filled a Forester with food that was delivered to our food pantry within the week. Remarkably, Bruce plants an amazing garden at his own home and donates the vegetables to his friends, co-workers and the PNC food pantry. We were blown away when Bruce arrived a the PNC with HUNDREDS of onions that he had grown himself. It's hard to imagine where he finds the time to fit in all of his charitable works. Today, he dropped by unexpectedly with a gift card to a local supermarket, to be given to a family in need. While he was here, he said, "sign me up to donate Christmas presents to six children" (through our Christmas Donor Angel Program.) We are blessed to have a special person, like Bruce, who goes above and beyond sharing the love.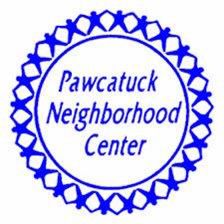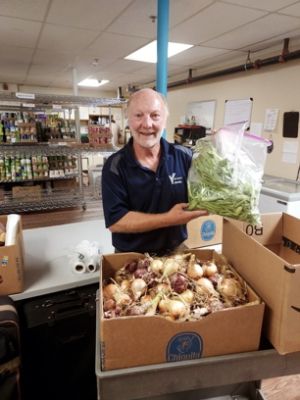 ---