The 2021 Subaru Love Promise Customer and Community Commitment Award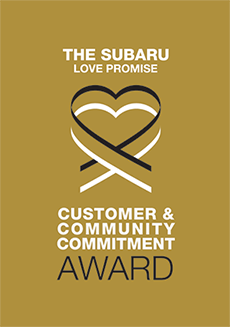 We've been nationally recognized for our dedication to our customers, our community, and the Subaru Love Promise.
We're honored to receive the 2021 Subaru Love Promise Customer and Community Commitment Award. This award nationally recognizes elite Subaru retailers who provide an exceptional customer experience at every interaction with Subaru. These retailers have also demonstrated an outstanding commitment to supporting passions and causes in their local communities in important areas such as the environment, community, health, education, and pets.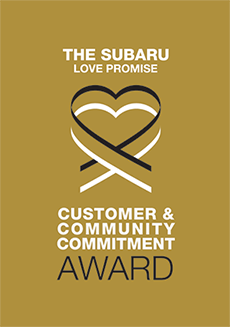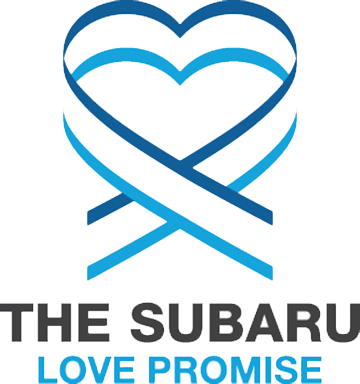 What is the Subaru Love Promise?
Subaru and our retailers believe in making the world a better place and the Subaru Love Promise is our vision of respecting all people. This is our commitment to show love and respect to our customers and to work to make a positive impact in the world.
How is Valenti Subaru dedicated locally to the Love Promise?
Our Love Promise can be seen in various partnerships with local charities and non-profits. We're grateful for the opportunity, not only to be a part of our community, but to serve it as well.
Westerly Rotary Club, Westerly Chamber of Commerce, Ocean Community YMCA
Rhode Island Blood Center
Love Promise Stories from Valenti Subaru
Subaru and Valenti Subaru believe in making a positive impact on the communities in which we live and work. We uphold that belief through our Love Promise Community Commitment. Every month, we select inspiring stories from customers and partners from around our area who strive to support our collective commitment and feature them here
VALENTI SUBARU TAKES CARE OF ITS NEIGHBORS - Susan S
Last year the Pawcatuck Neighborhood Center (PNC) was honored to be the recipient of its Share the Love campaign. That money was used to provide basic human essentials, including food and heat, to our neighbors. Valenti Subaru continues to support the PNC through Bruce Morrow who is an active board member. Bruce is prepared to get the job done - even when that means bringing his own grill to a picnic fundraiser, and grilling the burgers and dogs himself. This year, Bruce and Joel Valenti were instrumental in helping the PNC to purchase a 12 passenger, handicap accessible bus for our Senior Transportation program. This program provides free, door-to-door transportation to medical appointments, grocery shopping and rides to the PNC Food Pantry and Senior Center. We are grateful to Valenti Subaru for sharing in our mission of "neighbors helping neighbors". They go above and beyond to take care of the most vulnerable in our community.
---
Share the Love Promise - Lorie D
On behalf of RICAN Food Pantry, located in Charlestown, I would like to thank Bruce Morrow and Valenti Subaru for their generous donation of $14,000 from the Share the Love Program back in March of this year. During a time of unprecedented times of hardship and uncertainty at the beginning of the pandemic, we are honored and very grateful to receive this donation to continue our mission of providing healthy, nutritional food to our neighbors in need in our community. These funds enabled us to replenish our food supplies during some very troubling days that turned into months to fight food insecurity. We continue to see record numbers of families weekly visit our pantry. Our mission is to provide, with dignity, emergency food and outreach to thousands of at-risk neighbors in Southern Rhode Island and the surrounding communities. Valenti Subaru continues to support so many of our local nonprofits, and Bruce has always been so wonderful with any requests we have asked of him. Among many things, he has supported our annual golf tournaments, and did a peanut butter, jelly and bread drive for RICAN, as well. Words cannot express our gratitude. Thank you to Bruce Morrow and Valenti Subaru! Wishing everyone a safe and Happy Holiday!
---
Champion for Non-Profits! - Maria D
Valenti Subaru has established a reputation as being a reliable supporter of the non-profit community throughout our region. For the Ocean Community Chamber Foundation, they continue to volunteer and provide set-up/clean-up support services for our major community events. Due to regulations stemming from the pandemic our organization needed to find a creative way to allow children to meet with Santa this holiday season. Valenti Subaru stepped up and offered the materials so that we could create a COVID safe snow globe photo opportunity. They provided space in their showroom where families could gather on weekends to take FREE images with Santa. Bruce Morrow has donated his personal time evenings, after work, to help us with clerical projects since we were forced to reduce our staff 50% this year due to COVID. The OCCF experienced losses of over $50,000 this year due to COVID19 event cancellations. We are eternally gratefully that Valenti Subaru has selected our organization to be the beneficiary of this year's Share The Love campaing. Valenti Subaru and its employees truly care about the non-profit organization operating in the region.
---
Community comes FIRST to Valenti Subaru - Lisa K
2020 has been an extra challenging year due to Covid but Valenti Subaru has risen to the occasion and continued to show exemplary leadership and unwavering dedication to the local community. Valenti Subaru sponsored the Pop Up Book of Stonington, an heirloom publication that celebrates the history, arts, villages and events of the town. Their participation is allowing us to distribute over 700 free pop up books to families on the "free and reduced lunch" program. Valenti sponsored the Santa's Arrival and Holiday Light Trail, providing a drive-thru holiday event for thousands of children and their parents. Over 90 inflatables and 30 costumed characters participated and provided a magical night for all. They even had an inflatable Subaru as one of the displays. Valenti staff attended and supported the Sunday Funday events downtown to help the small businesses struggling through Covid regulations. They buy chamber gift certificates to help circulate funds within the local business community and they regularly rotate purchasing lunch as a staff from a variety of local eateries. Valenti Subaru has a representative on the Board of Directors of the Ocean Community Chamber of Commerce- Bruce Morrow. Bruce helps provide strategic direction for the organization and helps us achieve our mission of serving the business community. In addition he is one of the most loyal and engaged Board members we have ever had. He shows up for EVERY task no matter how big or small. He has helped us load trucks with event equipment, sticker pages in a publication, recruit auction items, and he even brings us vegetables from his garden for staff to enjoy and mums for the office so that it makes a welcoming presentation to the public. He is high energy and makes our "work" feel more like fun. Because our organization was forced to cancel 3 of its major fundraising events, we needed to launch a campaign to help generate funds so that we could continue our efforts to support the business community. Bruce was able to convey our story to potential donors and help us raise over $50,000.
---
Valenti Subaru ~ Reason Behind Happy Tails & Purrs - Deb T
Stand Up For Animals in Westerly, RI has had the opportunity to work with Valenti Subaru since 2017. Bruce Morrow, General Sales Manager, has and continues to make a tremendous positive impact in our local community. Valenti Subaru is a supporter of many of our fundraisers including our annual bowlathon and golf tournament. Their Subaru Loves Pets showroom donation drives have provided food, fun dog toys, and basic necessities for many animals. We are honored to have Valenti Subaru as a major part of our community. In 2020, this collaboration expanded to include an October promotion that donates funds for every dog or cat adoption occurring at the shelter. We are thrilled with the outcome and have allocated the funds to purchase microchips for each shelter animal. These microchips contain a registration number and a handheld scanner reads the radio frequency of the chip and displays the pet owners contact information. Any animal shelter or vet clinic that finds a pet can scan for a chip and contact the registry to get the pet owners name and phone number and help reunite pets with their families. Anyone that has ever had a missing pet, understands the peace of mind that having their pet microchipped brings them. Our vision at Stand Up For Animals is to create a place where animals will be treated with compassion and dignity; where suffering and abuse will not be tolerated; where education and understanding will play an integral role in eliminating overpopulation, animal cruelty and abandonment; where every possible effort is made to return an animal to its owner, or to place that animal in a new, safe and loving home. With these microchips, and the continued support of Valenti Subaru, we are able to keep true to that vision! To Bruce and everyone at Valenti Subaru ~ WE THANK YOU from the bottom of our hearts and paws!! (pictures are pre-COVID days)
---
Town of Westerly is Lucky to have Valenti Subaru! - Suzanne G
On behalf of the Town of Westerly I would like to say that Valenti Subaru is an exemplary business that goes way above and beyond to support our community. I have been so impressed and grateful for the many demonstrations of support they have shown our citizens, our non-profits and the Town itself. From providing bikes to needy families to supporting the local Lions Club and Rotary Club to being a major supporter of the Towns 350 anniversary this year, they are a tremendous asset. The owners should be commended on encouraging their staff to get involved, make a difference and give back. They genuinely care. Share the love is not a tag line or motto. It's a way of everyday business. We thank them and we appreciate them.
---
Bottomless Support to the Small Businesses - Maria D
Valenti Subaru has been a major supporter of the Ocean community Chamber of Commerce and the small business community in our area. They volunteer their time, they sponsor events and host fundraisers for local non-profits. Valenti Subaru volunteers their time to helping cook at the annual Pawcatuck River Duck Race, Annual River Glow, and cook for the Chamber at our fundraising events, amongst many other an annual events. They help recruit prizes for the Duck Race and auction items for the OCCC Annual Dinner. They are the primary sponsor for the annual Fusion art event. They donate their time helping artist from 9 states to unload their wears at our annual Virtu Art Festival. Every year they pick local charities to benefit from the Subaru Share the Love program which is a major ministry boost for critical service for many of these non-profits. Our town and local business community could not thrive without Valenti Subaru as a partner and employer. Thank you so much!! Maria DiMaggio Membership Director Ocean Community Chamber of Commerce
---
monumental support to Westerly 350 Anniversary - Lisa K
Westerly Rhode Island celebrated its 350th anniversary this year and executed a tremendous series of large scale events. Valenti Subaru was a major sponsor and their support made a number of free community events possible including an Olde Tyme Fair, Light Parade, Time Capsule event, unity bell ringing event, several movies and more. They even sponsored a gigantic cake for the fair that was served free to everyone!! It was about 12 feet long and had 3 d town buildings on it. At every Westerly 350 event there were volunteers from Valenti Subaru to promote, help set up, attend, clean up and more. Their team is awesome and their culture of community support is second to none. We are so grateful for their generosity, their hands on approach to volunteerism, their energy and their steadfast leadership. Thank you for your consideration! Cheers to making this an amazing year!! Lisa Konicki Westerly 350 Committee.
---
Best Car Dealer - Louis C
We had such a great experience with Valenti. Carlos Pineda is our favorite Subaru guy. Hands down. He made car buying easy and pleasurable. This is our second Subaru. Both of them were purchased through Carlos. Everybody at Valenti was friendly and courteous. And we highly recommend them to anybody looking to buy a car.
---
Subaru Loves to Care-Spreading Hope & Warmth - Laura W
Valenti Subaru continued their long standing support of the community by donating warm blankets and message of hope cards to cancer patients at Westerly Hospital on June 27, 2018. Hospital staff were on hand to accept the donations on behalf of the patients from Bruce Marrow, General Sales Manager at Valenti Subaru. Almost everyone walking by knew Bruce by name which is a testament to how much Valenti Subaru makes an impact in the local community. The Leukemia and Lymphoma Society thanks Valenti Subaru for their continued partnership!
---